Kennedy and her family are blogging friends that I have "met" through blogging! Kennedy is a 4-year old little girl who is having yet another surgery tomorrow -I think this makes 16 or 18 (I'm not sure about the number - it is somewhere on Rene's blog). You can read all about Kennedy at her
blog
(I linked to just the posts about Kennedy)...
As taken from
Renee's blog
(hope you don't mind Renee), 'Kennedy is having her spine fusion surgery. They anticipate the surgery to be 8-9 hours. This will be her longest surgery yet. After surgery Kennedy will have her halo on and go to ICU for 24-48 hours. Then she will go to a regular hospital room for about a week. Then we will be released, but we have to stick around Philadelphia so they can watch her and do her first post-op CT scans.'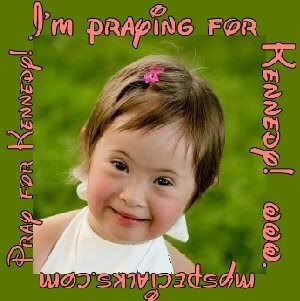 Please keep Kennedy and her family in your thoughts and prayers tomorrow!